Yoga and Big Boobs  
Volume 1: Self Acceptance

by Faith Onyesom - Guest Writer
According to Everyday Health, having big boobs can place excess weight on the chest. Without enough support from the surrounding muscles and the rest of the body, the weight of the breasts can cause severe pain, making it difficult to maintain good posture, and even lead to spinal deformity. Being self-conscious about large breasts also makes some women hunch forward in an attempt to hide their chest, which can worsen existing back pain.
Considering the above we decided to collaborate with Faith Onyesom, a certified Yoga teacher (200hrs) to talk about how Yoga can help with back pain, posture and most importantly self-acceptance.
My first real introduction to yoga was about 3 years ago at a yoga studio in Lagos, Nigeria. For a very long time, I felt out of place and didn't know who I was or who I wanted to be. I also didn't know what direction I wanted my life to take, which was depressing. What was more frustrating for me was I never knew how to "practically" get the answers I desperately sought.
After completing NYSC (Mandatory Nigerian Youth Service), there was enormous pressure to decide my next steps and this threw me further into a constant state of unease. I came across a yoga studio and decided to try it out to see if it could help me relax my nerves and anxiety and after a few sessions, it began to work!
I felt light like a weight had been taken off my shoulders.
I felt peace and knew that I was going to be okay whether I figured out my purpose in life or not.
I realised that the feeling Yoga game me was something I had unconsciously been searching for - a practical, integrated approach to taking charge of my life and bringing it to a place of balance, health and happiness. I suddenly understood and came into myself, started practising yoga at home via YouTube videos because I never wanted to feel out of place again.
Since starting yoga, the benefits for me have been endless and my favourite part is I see the benefits every single day. I primarily practice Vinyasa Yoga which is a practice that flows through a series of poses while coordinating breath with each movement.
It usually has a fitness element, strengthens the full body and it can be done fast paced or more slowed down depending on the individual. Since I came to the realisation that yoga is more than just the poses we see, what yoga has proven to me then and continues to teach me is that you control your own happiness. It proved to me you could take control of your own well being despite the chaotic and overwhelming lifestyles of the modern world. By taking my body through a beautiful journey of movement, with full awareness, I have learned acceptance without judgement, I could notice and change the patterns and things not serving me. From impatience to detrimental self-talk, comparing myself to others.
It reawakened in me the belief that balance and happiness is our true natural state, and that we already have all the tools to create our own inner peace. Yoga has made me stronger than I could ever have dreamed, physically and mentally. I find that I am softer in places that before held only fear.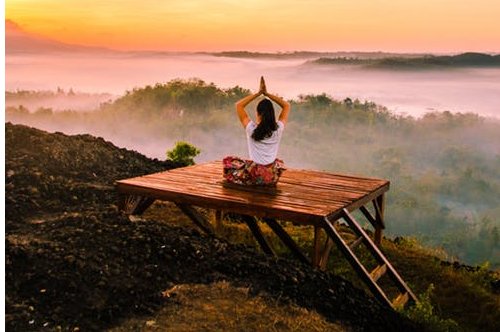 ---
What Causes Back Pain in Big-Boobed Women?

"Yoga has made me stronger than I could ever have dreamed, physically and mentally. I find that I am softer in places that before held only fear."
- Faith Onyesom -
I personally don't and have never had big boobs, however, I have friends and family who do and I have heard issues they struggle with and I really empathise.
According to Women's Health, D-Cup breasts weigh between 16-24 pounds – that's an additional two stone to carry around your rib cage and upper back. Additionally, "Heavy breasts also change your centre of gravity" and could lead to continuous tension on the middle and lower fibres of the trapezius muscle and on associated muscle groups. This is why although your breasts are placed in the front area of your body, you can experience pain through the mid-back part of your spine and/or poor posture.
Additionally, big boobs can affect the rise and fall of your rib cage, which can affect how much oxygen your lungs are taking in when exercising, making you struggle for breath. This may make you feel like you are "unfit" but the reality is the weight on your chest is limiting your lung function.
Thank you for reading this post, I hope you've enjoyed it!
In Volume 2, I'll be exploring and demonstrating quick and beginner friendly Yoga poses that strengthen the back muscles and spine.
Until next time!
---
Faith Onyesom is a certified yoga & mindfulness teacher and environmentalist. Faith runs The Mat Series, which are a series of Yoga classes held in Lagos, Nigeria that promote mindfulness through yoga.
Her approach to yoga combines the practices of meditation and mindfulness with a focus on enabling practitioners to find the inner peace that exists in all of us.
Instagram: @faiitth @thematseries